Incoterms Rules for International Trade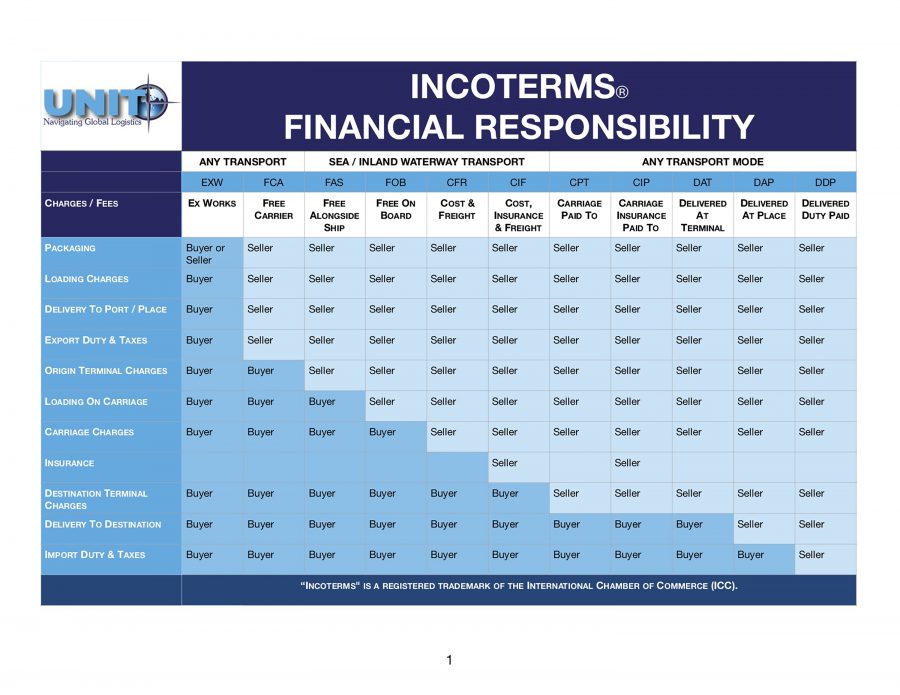 What are Incoterms® rules?
Incoterms are terms designed to communicate the commercial sale of goods, providing instructions to the Seller, Buyer, Freight Forwarder, Customs Broker and other parties involved in a business transaction.  They are helping in clarifying the responsibilities of each party to the transaction such as payment of export clearance and other documentation, loading and unloading, specific delivery responsibiliteis , insurance, etc.  Incoterms are useful for both international and domestic transactions.  
What Incoterms® aren't?
Incoterms are not law nor are they all inclusive. Therefore formal sales contracts and agreements are still necessary. They also do not remedy breach of contracts or agreements.
They are not implied so be sure to specify them during the purchase process and contract / agreement negotiations.
Incoterms are not used in the sale of services and intangible products.
They are not used by U.S. Customs and Border Protection or other U.S. Federal Government agencies to communicate trade.
For more information visit the International Chamber of Commerce.
*All information is provided by ICC.